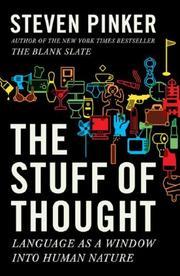 Books, Brochures, and Chapters>Book:
Pinker, Steven
(2007)
, The Stuff of Thought: Language as a Window into Human Nature
, Retrieved on 2015-05-31
Folksonomies:
language
semantics
Memes
31 MAY 2015
"Do not squander time," said Benjamin Franklin, "for that is the stuff life is made of." Our consciousness, even more than it is posted in space, unrolls in time. I can imagine abolishing space from my awareness—if, say, I were floating in a sensory deprivation tank or became blind and paralyzed—while still continuing to think as usual. But it's almost impossible to imagine abolishing time from one's awareness, leaving the last thought immobilized like a stuck car horn, while ...
31 MAY 2015
Of course, it is a cliché of our times that we suffer from information overload because of the ubiquity of electronic media. And for fifty years, cognitive scientists have been harping on the limitations of the brain in processing information. Some have argued that Grice's cooperative maxims are a way to manage the flow of information in a conversation, maximizing the rate of transmission of usable knowledge. But the ultimate reason our speech is so indirect may lie in a different danger ...
02 JUN 2015
The revolution in our understanding of the logic of names began with a basic question: Where do the meanings of words live? There are two likely habitats. One is the world, where we find the things that a word refers to. The other is in the head, where we find people's understanding of how a word may be used. For anyone interested in language as a window into the mind, the external world might seem to be an unpromising habitat. The word cat, for example, refers to the set of all the cats t...
02 JUN 2015
Onomatopoeia and sound symbolism are the seeds of a more pervasive phenomenon in language called phonesthesia, in which families of words share a teeny snatch of sound and a teeny shred of meaning. Many words with the sound sn-, for example, have something to do with the nose, presumably because you can almost feel your nose wrinkle when you pronounce it. They include words for the nose itself (like snout), words for noselike instruments (like snorkel and snoot, a cone for directing a spotlig...
02 JUN 2015
Metaphor in science, Boyd suggests, is a version of the everyday process in which a metaphor is pressed into service to fill gaps in a language's vocabulary, like rabbit ears to refer to the antennas that used to sprout from the tops of television sets. Scientists constantly discover new entities that lack an English name, so they often tap a metaphor to supply the needed label: selection in evolution, kettle pond in geology, linkage in genetics, and so on. But they aren't shackled by the...
1

1

notes